Bestiary Entry 044:Edit
Shizuka's Bestiary:
Edit
"Originally a mirror used to drive off youkai, it gradually built up youkai energy until it became a youkai itself. Clouds constantly flow out of it and surround it, giving it the power of flight. This youkai can transfer itself between mirrors, allowing it to answer people who ask questions to the mirror or show them distant scenery. Especially powerful Ungaikyou are said to have the ability to connect to mirrors in the future. Maybe you could find your soulmate in one?"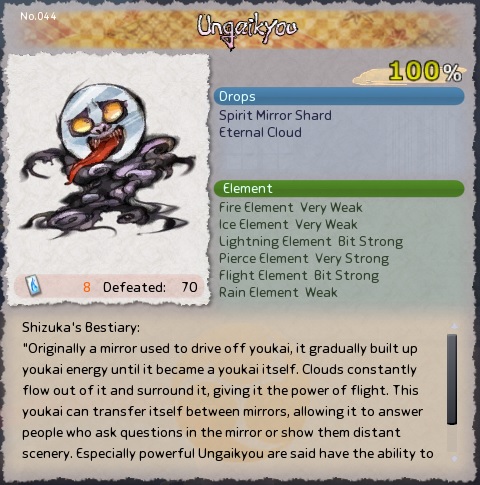 Variation of UngaikyouEdit
Ungaikyou
Edit
Nature: Soul
Dungeon: Ooikazuchi Cavern 1F, Okuizumo, Well of Five Virtues, Yakumo Shrine Top Floor, Room of Rites, Burial Mound of the Ethereal, Plover Pit, Echigo Estate, Undersea Cave, Ginza Sewer Pipe #4 1F, Suiai Forest Enterance, Hikigane Cave 1F, Assault! Dragon Ark Sabisame, Assault? Golden Daruma Ooiri Pt.1, Assault? Golden Daruma Ooiri Pt.2, 闇冥の森
Aramitama: A Chance Meeting Stage 54, Juncture Stage 34, Stage 61
Windgaikyou
Edit
Huge Ungaikyou
Edit
Ungaikyou
Edit
Boss Image
Edit
Ad blocker interference detected!
Wikia is a free-to-use site that makes money from advertising. We have a modified experience for viewers using ad blockers

Wikia is not accessible if you've made further modifications. Remove the custom ad blocker rule(s) and the page will load as expected.