Bestiary Entry 011:Edit
Shizuka's Bestiary:
Edit
"A youkai often seen wandering the rice fields during the twilight hours, bathing in the orange glow of the setting sun. There's an old wive's tale saying that if it walks towards the setting sun, the morrow will be fair weather. If it turns away from the setting sun, rain will follow. It's like they're little weather forecaster's, huh? Still, when I passed by one earlier it seems terribly depressed."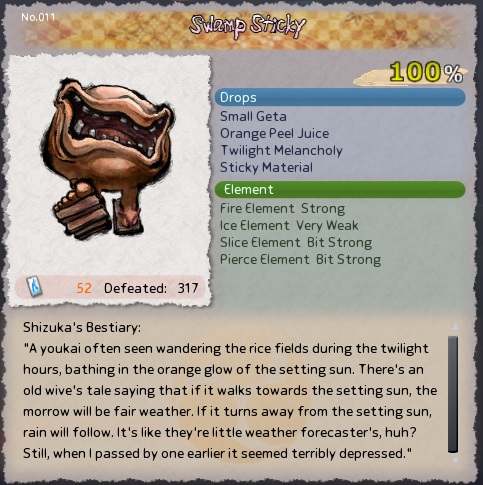 Variation of Sunset StickyEdit
Sunset Sticky
Edit
Nature: Spirit
Aramitama: Juncture Stage 86
Other VariationEdit
Sunset Sticky
Edit
Attack PatternsEdit
Like all other stickies, this one has fairly obvious attack patterns, and will carry out one of the following actions:
Geta Kick

Stickies will sometimes throw their shoes (getas) at you, kicking them off one of their feet. This is their most damaging move, and is considered to be a long ranged, dodge-able projectile attack.

Bite

Stickies like to bite! despite being weak, this attack can still do some damage.

Headbutt

A small quick attack meant to inflict moderate damage. Stickies often have anti-flinch as they initiate this attack.

HP Recovery

Most of the time, stickies will not cast this spell. But when they do, they will receive a buff that repeatedly heals them for 40 hp a second, and will also begin pulsing between their original colours and green. Kill them before they can heal up!
Ad blocker interference detected!
Wikia is a free-to-use site that makes money from advertising. We have a modified experience for viewers using ad blockers

Wikia is not accessible if you've made further modifications. Remove the custom ad blocker rule(s) and the page will load as expected.