Bestiary Entry 067:Edit
Shizuka's Bestiary:
Edit
"A youkai with a penchant for cannons and the explosios they make. Originally a famous cannoneer who made a name for himself in countless battles, he was suddenly overwhelmed with the desire to defeat and enemy at close quarters and was subsequently killed in the resulting blast. Unable to accept his untimely death, he came back to life as a Musha. It considers its cannon as part of its body, and stealing it would make it lose its will to live and they'll pass on, or so they say...Good time for a funeral salute."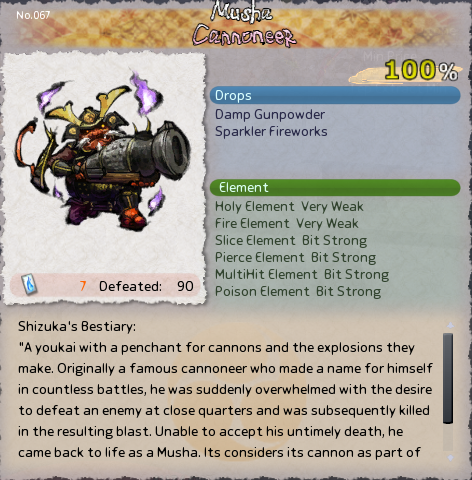 Variation of Musha CannoneerEdit
Musha Cannoneer
Edit
Musha Cannoneer (Eastern)
Edit
Musha Cannoneer (Western)
Edit
Other VariationEdit
Heaven Musha Cannoneer
Edit
Ad blocker interference detected!
Wikia is a free-to-use site that makes money from advertising. We have a modified experience for viewers using ad blockers

Wikia is not accessible if you've made further modifications. Remove the custom ad blocker rule(s) and the page will load as expected.