Bestiary Entry 028:Edit
Shizuka's Bestiary:
Edit
"An old paper lantern that's so worn that it's been thrown away by its owner. Eventually it becomes a youkai and one day suddenly pops open to frighten any nearby humans. While they're shocked, it quickly makes off with their souls. Craftsmen started making lanterns decorated like these youkai to desensitize people to their sudden appearance. It's been a very effective countermeasure, as now nobody seems to be scared of them anymore. Nowadays all they can do is stare down children."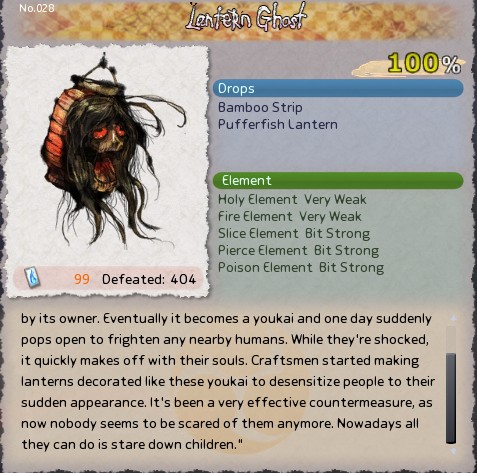 Variation of Lantern GhostEdit
Lantern Ghost
Edit
Nature: Soul
Dungeon: Cave of Dreams 1F, Iwanaga Cavern 1F, Byakkou Cavern 1F, Honomusubi Cavern, Oonaobi Shrine, Yellow Dragon Spire 2F, Mount Kurama (Halfway), Den of Needles, Bare Hand Cave, Inaki Woods, Burial Mound of the Preserved, Nether Inaki Woods, Nether Den of Needles, Nether Sekiyou Forest, Secluded Forest, Well leading to the Underground Prison, Grand Forest, Prospector's Forest, Bamboo Thicket Well, Old Hokurikudo 2nd Line, Plover Pit, Yamanba Villa, Ice Caverns, Azami Crossing 1F, House of Hinawa Hallway, Gennai's Laboratory, Assault! Mystery Arms Dealer & Puppet Steward, 闇冥の森
Field: Marunouchi Sewers, Nether Sekigahara
Aramitama: A Chance Meeting Stage 14, Stage 86, Juncture Stage 16, Stage 83
Lantern Ghost
Edit
Huge Lantern Ghost
Edit
Other VariationEdit
Deteriorated Lantern
Edit
Lantern Ghost
Edit
Yami Lantern Ghost
Edit
Boss Image
Edit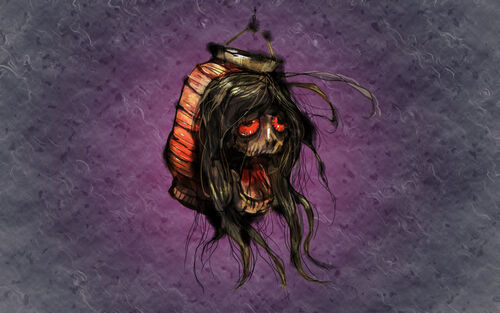 Ad blocker interference detected!
Wikia is a free-to-use site that makes money from advertising. We have a modified experience for viewers using ad blockers

Wikia is not accessible if you've made further modifications. Remove the custom ad blocker rule(s) and the page will load as expected.