Bestiary Entry 096: Edit
Shizuka's Bestiary:
Edit
"When you try to open an old umbrella on a rainy day, you might hear a sinister laugh and find that your umbrella is staring at you with a large eye. Then it might just start hopping away on a single leg. Apparently sometimes an umbrella that's been used for a long time will begin to harbor a soul. It's not running from you or anything, if anything it;s grateful that you used it for so long that it turned into a youkai to thank you. Ah, look! It;s looking at you from over there!"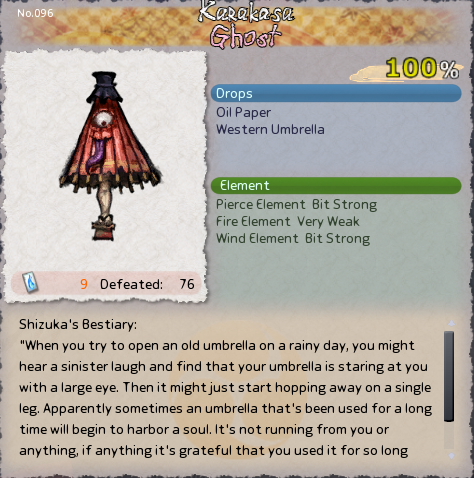 Variation of Karakasa GhostEdit
Karakasa Ghost
Edit
Haunted House Karakasa Ghost
Edit
Rain Karakasa Ghost
Edit
Other VariationEdit
Rain Karakasa Ghost
Edit
Nature: Soul
Aramitama: 5th Aramitama 無明
Ad blocker interference detected!
Wikia is a free-to-use site that makes money from advertising. We have a modified experience for viewers using ad blockers

Wikia is not accessible if you've made further modifications. Remove the custom ad blocker rule(s) and the page will load as expected.