Bestiary Entry 022:Edit
Shizuka's Bestiary:
Edit
"A breed of youkai that live close to rivers. Apparently the little saucer they keep on their heads has to be kept wet or they lose all of their power.They'll often challenge humans to Sumo wrestling with shirikodama at stake. As they posses physical strength on par with Oni, it makes for a pretty uneven match. The people of the past would have a referee to tell them to lower their heads and push their rears towards the sky, draining the saucer and making it easier for the human to win. Pretty smart of them if you ask me!"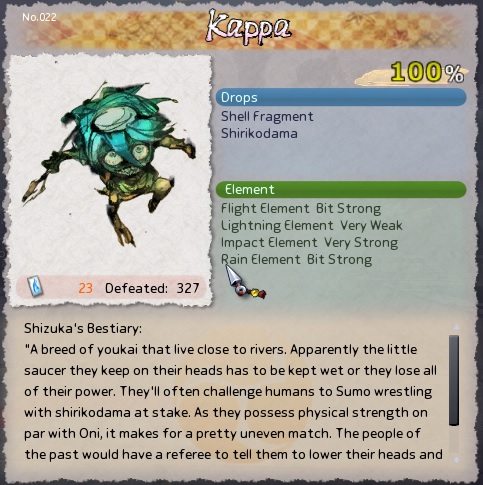 Variation of KappaEdit
Nature: Spirit
Dungeon: Kokujou Forest, Daiku Cave 1F, Hoderi Shrine 1F, Hosuseri Shrine 1F, Hoori Shrine, Sakurajima Depths 1F, Seiryuu Grotto 1F, Singlesword Forest, Burial Mound of the Ethereal, Elder Forest, Grand Forest, Jellyfish Cave 1F, Anka Forest Enterence, Assault! Dragon Ark Sabisame, Arcane Genbu Temple, 闇冥の森
Field: Kikaigahara, Sekigahara
Aramitama: Daybreak, A Chance Meeting Stage 2, Stage 83, Juncture Stage 21
Frost Kappa
Edit
Other VariationEdit
Halloween Kappa
Edit
Nature: Spirit
Dungeon: はろうぃんらんど
Ad blocker interference detected!
Wikia is a free-to-use site that makes money from advertising. We have a modified experience for viewers using ad blockers

Wikia is not accessible if you've made further modifications. Remove the custom ad blocker rule(s) and the page will load as expected.