Bestiary Entry 027:Edit
Shizuka's Bestiary:
Edit
"A freshwater crab living near a temple lake that's been possessed by an evil spirit and turned into a youkai. It's said that they'll crawl out of the lake on foggy nights and pose difficult questions to the monks sleeping in the temple. IF they can't answer, they're eaten! The prayer beads they carry are then turned into pearls and stay within its body until it's defeated. That's why there's no shortage to people who challenge the Kanibouzu's questions. It's a risky gamble, but I guess these youkai are just one more cog in the world of commerce."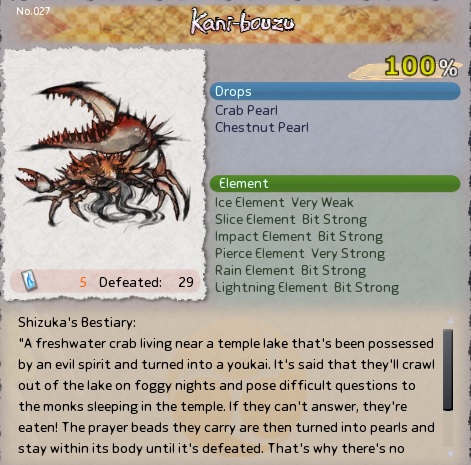 Variation of KanibouzuEdit
Kanibouzu
Edit
Nature: Beast
Dungeon: Kokujou Forest Interior, Cave of Nakisawame 2F, Sekiyou Forest, Bare Hand Cave, Burial Mound of the Ethereal, Nether Sekiyou Forest, Suisen Forest
Field: Nether Sekigahara, Eastern Plains
Aramitama: A Chance Meeting Stage 8, Juncture Stage 6, Stage 11, Stage 33, Stage 59
Tutorial Kanibouzu
Edit
Nature: Beast
Location: None
Thunderbouzu
Edit
Other VariationEdit
Kanibouzu
Edit
Nature: Beast
Aramitama: 5th Aramitama 無明
Boss Image
Edit
Ad blocker interference detected!
Wikia is a free-to-use site that makes money from advertising. We have a modified experience for viewers using ad blockers

Wikia is not accessible if you've made further modifications. Remove the custom ad blocker rule(s) and the page will load as expected.