Bestiary Entry 055:Edit
Shizuka's Bestiary:
Edit
"Fluctuations in the earth's crust resulted in an underground cave filled with natural poisons, creating this youkai. In the distant past, during Mount Fuji's eruption, the youkai poured out of the broken lands, causing innumerable casualties. Their poison saps the afflicted of energy and gives them the chills, an upset stomach, a headache, a sore throat, sneezes, coughs, a fever, a runny nose, and a stuffy nose. Huh, that sounds like a cold...?"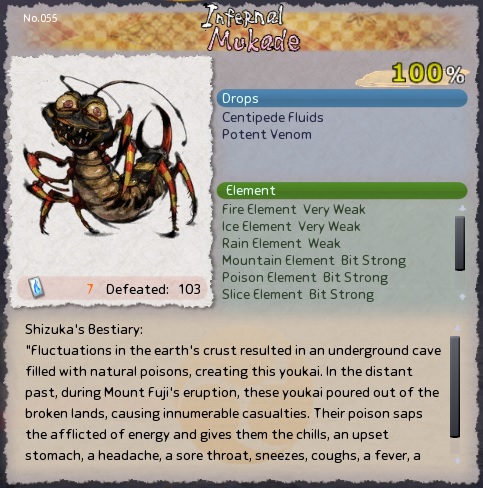 Variation of Infernal MukadeEdit
Infernal Mukade
Edit
Nature: Beast
Dungeon: Yomotsuhirasaka Depths B1, Den of Needles, Nether Singlesword Forest 1F, Nether Sekiyou Forest Interior, Secluded Forest Interior, Prospector's Forest, Bamboo Thicket Well, Near Gouriki's Meeting Point, Hermit Crab Grotto 2F, Ginza Sewer Management 1F, Marunouchi Sewer Pipe #5, Mine of Delusions 1F, Karuka Cave 1F, Assault! Arch Death Scythe
Field: Nakasendo, Nether Sekigahara
Aramitama: A Chance Meeting Stage 44, Juncture Stage 53
Chibi Infernal Mukade
Edit
Boss Image
Edit
Ad blocker interference detected!
Wikia is a free-to-use site that makes money from advertising. We have a modified experience for viewers using ad blockers

Wikia is not accessible if you've made further modifications. Remove the custom ad blocker rule(s) and the page will load as expected.