Bestiary Entry 042:
Edit
Shizuka's Bestiary:
Edit
"A youkai that emits intense heat from its body and parches the land. Once worshipped as the savior of a farming village suffering from constant rains, it found their adulation comfortable and decided to stick around. However, its presence withered the crops and destroyed the soil, causing the villagers to turn against it and chase it out, declaring it a bringer of disaster. I guess it's a classic example of overstaying your welcome."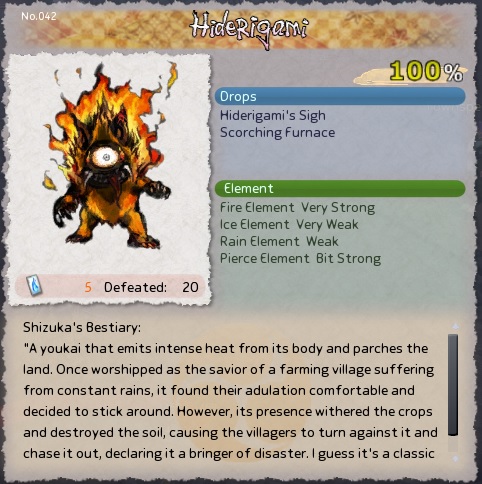 Variation of HiderigamiEdit
Hiderigami
Edit
Other VariationEdit
Hiderigami
Edit
Nature: Spirit
Aramitama: 5th Aramitama 無明
Ad blocker interference detected!
Wikia is a free-to-use site that makes money from advertising. We have a modified experience for viewers using ad blockers

Wikia is not accessible if you've made further modifications. Remove the custom ad blocker rule(s) and the page will load as expected.