Bestiary Entry 082:Edit
Shizuka's Bestiary:
Edit
"A sandal apparition distraught over careless humans throwing away sandals that can still be used. Carrying anger, sadness, and athlete's foot, these youkai live to teach humans a lesson...or they were supposed to but it seems they get distracted by trying to find their pair. It's kind of romantic how they spend their time searching for their lover from their past life. If they manage to meet, perhaps they could get a Great Daruma-san to wear them."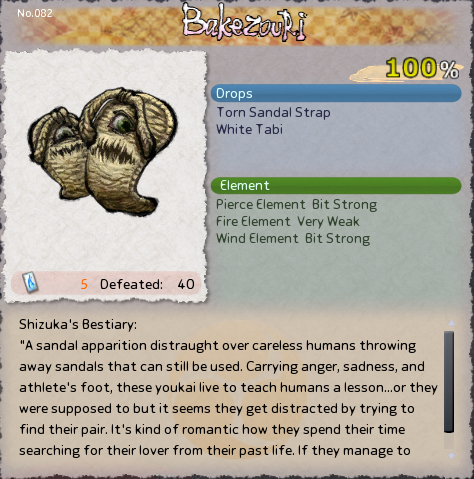 Variation of BakezouriEdit
Bakezouri
Edit
Nature: Soul
Dungeon: Old Hokurikudo 1st Line, Plover Pit, Echigo Estate B1, Yamanba Villa, Sado Mine, Azami Crossing 1F, Shimmering Forest, Haunted House 2015
Field: Hokurikudo 1st Line, Hokurikudo 2nd Line, Hokurikudo 3rd Line, Hokurikudo 4th Line, Echizen Highway, Nakasendo
Aramitama: Daybreak, A Chance Meeting Stage 19, Stage 61, Juncture Stage 51
Saint Bakezouri
Edit
Ad blocker interference detected!
Wikia is a free-to-use site that makes money from advertising. We have a modified experience for viewers using ad blockers

Wikia is not accessible if you've made further modifications. Remove the custom ad blocker rule(s) and the page will load as expected.