Bestiary Entry 049:Edit
Shizuka's Bestiary:
Edit
"A Mukade that devoured the flesh of those who died on the battlefield. Their already hard carapace has grown even thicker with the addition of the tormented spirits of the Armored Musha that were eaten. If you're going to fight one, you should get Yoshitsune-chan to look after your weapon. It seems that during the Sengoku era, the massive battles, their population exploded, causing a whole mess of problems. If they get those fangs into you, they won't let go until they tear away flesh. Be careful when fighting one!"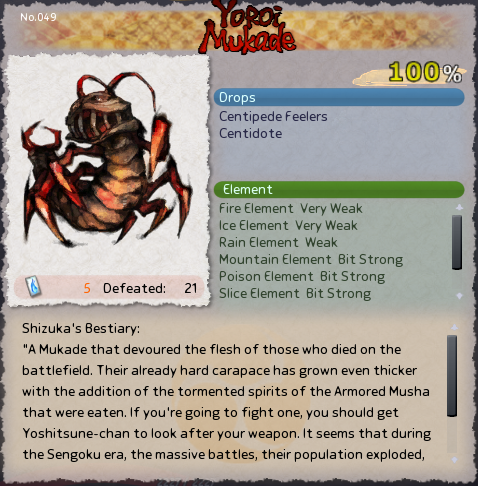 Variation of Armored MukadeEdit
Armored Mukade
Edit
Armored Mukade
Edit
Boss Image
Edit
Ad blocker interference detected!
Wikia is a free-to-use site that makes money from advertising. We have a modified experience for viewers using ad blockers

Wikia is not accessible if you've made further modifications. Remove the custom ad blocker rule(s) and the page will load as expected.