Bestiary Entry 062:Edit
Shizuka's Bestiary:
Edit
"Watch out for this skikifuda's ice magic! These blue talismans signify an upgrade. While previous versions were to fire, these...are also still weak to fire, but they're 3 times as relentless! They retain some of their magic even after being defeated and they constantly chill their surroundings. As it turns out you can use them as portable cooling packs which helps during the summer, when food spoils much easier."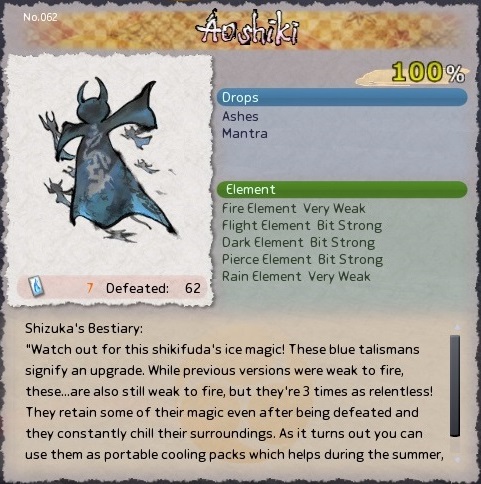 Variation of Blue ShikiEdit
Blue Shiki
Edit
Ad blocker interference detected!
Wikia is a free-to-use site that makes money from advertising. We have a modified experience for viewers using ad blockers

Wikia is not accessible if you've made further modifications. Remove the custom ad blocker rule(s) and the page will load as expected.